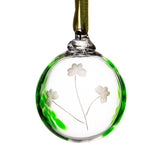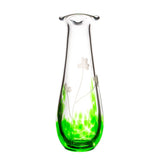 AUTHENTIC IRISH: Years after learning his craft at Waterford Crystal, Eamonn Terry started his own studio in Co. Waterford
IRISH CRAFTSMANSHIP: Each decanter is a work of art, hand cut at the wheel, it takes on the artist's vision
TIMELESS DESIGN: Móin means peat or turf. This crystal design is inspired by the upland bogs along Ireland's West Coast. Measures 7 5/8"H x 4 1/4"W - 38 fl oz
PERFECT GIFT: "Love what you give" is a sentiment that is fitting for this unforgettable crystal decanter when gifted to another
IRISH HOSPITALITY: We're real Irish people proud to support real Irish craftsman dedicated to Ireland's traditions and culture
When Waterford Crystal moved their manufacturing out of Waterford, Ireland it could have created a void for artisans and their craft. Thankfully, master glass cutter, Eamonn Terry had the foresight to venture out on his own creating a studio workshop situated in the picturesque, Irish-speaking area of An Rinn, the Waterford Gaeltacht, in Co. Waterford, Ireland. This Irish crystal decanter is part of the Móin collection, which means peat or turf in Irish. This piece takes its design inspiration from the rolling hills and layers of earth that has fueled Ireland for centuries. Each decanter is a heavy, tactile piece, cut by hand. Owned and operated by Eamonn Terry, he pours his 50+ years of experience into every piece made at their Criostal na Rinne studio workshop. Eamonn says he is happiest when he's working at the glass cutting wheel. Because this Irish crystal decanter is made with the love of the craft, it makes a special gift for someone you love. Whether this Irish crystal decanter is for yourself or someone else, you'll be impressed with the quality craftsmanship and the artful detail within the design. The decanter measures approximately 7 5/8" high x 4 1/4" wide - 38 fl oz. Each piece is also beautifully presented, carefully protected and well-packaged using recyclable and compostable materials. Each box also tells a story about the piece. We're proud to tell the story of this maker-partner and their incredibly detailed Irish crystal decanter. We're in business to preserve and promote these crafts so they can continue to be a part of the movement to sustain Irish culture and it's unique crafts. When you purchase from Biddy Murphy, you are helping a small business that is dedicated to sharing the joy that is a part of every cut in every piece of Irish crystal. You'll be delighted with your purchase or we'll make it right. It's our Irish hospitality at work in a promise to our customers.
AUTHENTIC IRISH: Years after learning his craft at Waterford Crystal, Eamonn Terry started his own studio in Co. Waterford
IRISH CRAFTSMANSHIP: Each decanter is a work of art, hand cut at the wheel, it takes on the artist's vision
TIMELESS DESIGN: Móin means peat or turf. This crystal design is inspired by the upland bogs along Ireland's West Coast. Measures 7 5/8"H x 4 1/4"W - 38 fl oz
PERFECT GIFT: "Love what you give" is a sentiment that is fitting for this unforgettable crystal decanter when gifted to another
IRISH HOSPITALITY: We're real Irish people proud to support real Irish craftsman dedicated to Ireland's traditions and culture
More from this collection