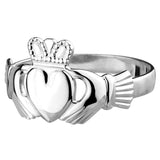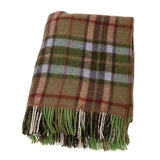 AUTHENTIC IRISH: Artistically designed by our maker-partner in Co. Dublin, Ireland. The family-run business has combined their passion for Ireland with their love of jewelry and have been in at it since 1941
QUALITY IRISH MATERIALS: Known for their handcrafted Celtic and Irish pieces, our maker-partner created this Claddagh wedding ring out of oxidized sterling silver. This ring has been hallmarked for purity
TIMELESS STYLE & DESIGN: The timeless symbolism of the Claddagh, representing love, loyalty & friendship, has been uniquely fashioned with oxidized sterling silver for a contemporary ""blackened"" look
BIDDY MURPHY EXPERIENCE: We understand that buying jewelry online can be stressful. We don't think it has to be that way. If you're not delighted, we'll make it right with an exchange or return
THE PERFECT GIFT: This Claddagh wedding ring is the perfect piece for any type of commitment. With its meaning of devotion, it also makes a great gift for someone special in your life
Customer Monica wrote to tell us "the ring is absolutely gorgeous but I needed to make an exchange due to sizing. It was handled quickly, kindly and professionally." We're happy that she thought it was a beautiful ring, but we take pride in the fact that she was pleased with our excellent customer service. We think you'll love this gents Claddagh ring with a narrow (.24" W) band and sturdy oxidized sterling silver construction weighing in at 7.58 grams. And if you need us, we'll be there for you
AUTHENTIC IRISH: Artistically designed by our maker-partner in Co. Dublin, Ireland. The family-run business has combined their passion for Ireland with their love of jewelry and have been in at it since 1941
QUALITY IRISH MATERIALS: Known for their handcrafted Celtic and Irish pieces, our maker-partner created this Claddagh wedding ring out of oxidized sterling silver. This ring has been hallmarked for purity
TIMELESS STYLE & DESIGN: The timeless symbolism of the Claddagh, representing love, loyalty & friendship, has been uniquely fashioned with oxidized sterling silver for a contemporary ""blackened"" look
BIDDY MURPHY EXPERIENCE: We understand that buying jewelry online can be stressful. We don't think it has to be that way. If you're not delighted, we'll make it right with an exchange or return
THE PERFECT GIFT: This Claddagh wedding ring is the perfect piece for any type of commitment. With its meaning of devotion, it also makes a great gift for someone special in your life
Customer Reviews
Write a Review
Ask a Question
Filter Reviews:
ring
quality
Biddy Murphy
service
moon
occasion
wedding
exchange
craftsmanship
sister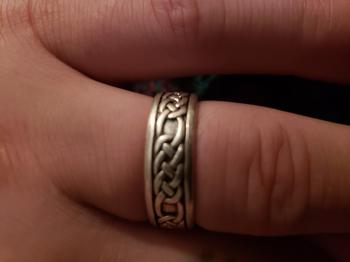 08/14/2018
Ring size and color
The ring is very nice but not as blackened as it looks online. We checked our ring size at a jeweler and ordered a half size bigger, and the ring was still a bit small.
04/03/2021
Two tone silver Claddagh ring by Solvar
Beautiful ring. Excellent craftsmanship and quality. Love it. Chose it as a present for my sister so not a 'wedding' ring on this occasion. It fits her perfectly and she loves it. She's 'over the moon' with how gorgeous it is. Excellent, helpful service from Biddy Murphy!
Anonymous

United States
11/23/2019
Beautiful Ring, Excellent Customer Service
I recieved my ring and it is absolutely gorgeous. I needed to make an exchange due to sizing, and it was handled quickly, kindly, and professionally. I love how my ring looks and fits. I will order from Biddy Murphy again.
Monica T.

United States
11/26/2019
Biddy Murphy Irish Gifts
Thank you for your kind words! We aim to please!!
06/26/2019
Perfect
This is my 2nd review of this ring. Why? I bought a 2nd one I liked it so much. Perfect fit and was true to size. We recently renewed our marriage vows, and this was the ring I used. I think that says it all! It is always on.
06/27/2019
Biddy Murphy Irish Gifts
go hiontach - wonderful news! Come back soon please!
06/22/2019
Favorite ring is this
I now wear this ring as my wedding band. Beatiful and true to size. Perfect fit. Love it!
James A.

United States
More from this collection