product
St. Brigid Cross Large Wall Hanging 10" x 10" x 1" made by Our Maker-Partner in Co. Roscommon
Quick Overview
Large Brigid cross measures approximately 10" x 10" x 1.
Crafted from dried out rushes and reed for a traditional version of the cross.
Packaging features facts about St. Brigid.
Made by our maker-partner in Co. Roscommon, Ireland.
Ships same day within the USA.
Hang this large Brigid Cross in your home for protection or give it as a great housewarming gift. This traditional St. Brigid's Cross will look great hanging in your home! St. Brigid, alongside St. Patrick, is one of the patron saints of Ireland. Just as Saint Patrick has his celebration day in March, St. Brigid is celebrated on the 1st of February. On her holiday, Irish people gather rushes and weave these crosses to hang in their homes. These crosses are both a celebration of St. Brigid, and are meant to protect the family and all guests who enter their home. Traditionally, the crosses are woven when the rushes are green, and they dry into a straw color. The St. Brigid's Cross hanging comes on a cardboard backing that explains more about the symbolism.
This St. Brigid Cross measures 10" x 10" x 1", making it a great size to hang within your own home. This St. Brigid's Cross is made by our maker-partner Patricia, who is a dedicated artisan, crafting items that come directly from the land around Co. Roscommon. Our maker-partner is Gaelic for "Saint Patrick," and has a passion for bringing the traditional symbols of the Irish saints to the global population! This meaningful St. Brigid Cross will make a beautiful hanging for your home all year round.
Customer Reviews
Write a Review
Ask a Question
Filter Reviews:
cross
Irish
items
Biddy
gift
Brigid Cross
aunt
February 1st
friends
pictures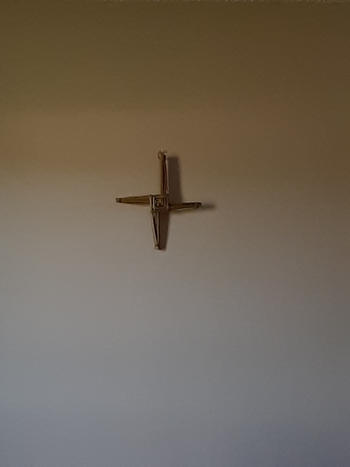 04/11/2020
Simply Beautiful
I purchased Brigid Cross for my mother and she loved it. I was so impressed by the craftsmanship and the sheer simple beauty of the item. I purchased one for myself. I'm in love with the item and my mother loves hers too. Thank you for genuinely Irish crafted items!
Karessa G.

United States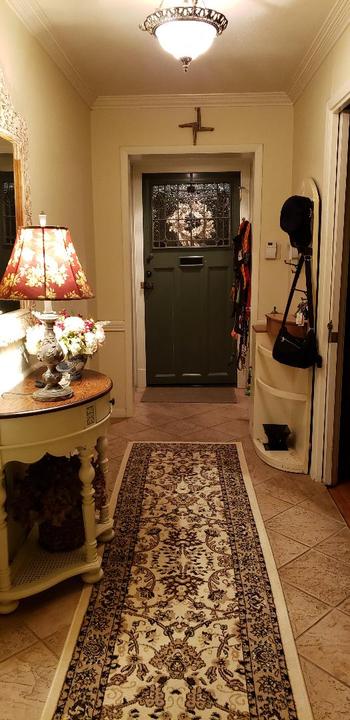 12/06/2019
We Love Brigid Cross Large Wall Hanging 10" x 10" x 1"
We Love it! We have St,Brigid's Cross placed above our front entrance, Lovely rustic cross and beautifully made. Thank you Biddy Murphy for offering such wonderful works of art from the old country. My father side of the family come from county of Kilkenny. Go raibh maith agat. Nollaig aoibhinn agus bliain nua shona
Constanze N.

United States
02/16/2023
St. Brigid Cross
I ordered the cross just days before February 1st and it was delivered the day before! I hung it up over my front door and enjoy seeing it everyday. I bought one for my aunt last year and she was tickled. The cross is handcrafted and beautiful to see. Thank you Biddy.
john A.

United States
02/12/2023
Not your fault!
My cross up was roughed up because the mail carrier FOLDED THE ENVELOPE IN HALF BEFORE STUFFING IT INTO THE MAILBOX.
mary s.

United States
02/06/2022
St. Brigids Cross
Bought as a gift for a dear aunt. It was delivered perfectly in time for February 1st. She was thrilled with it especially when she realized it was from Ireland.
Anonymous

United States
More from this collection