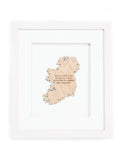 AUTHENTIC IRISH: There's nothing more authentic than an Irish curse wall hanging crafted in Co. Meath, Ireland
QUALITY IRISH MATERIALS: This Irish wall decor is crafted on eco-friendly Irish timber off-cuts that would have otherwise been wasted
UNIQUE DESIGN: Crafted as a cutout of Ireland and presented within a matted frame measuring 15"H x 12"W x 1-1/4" D
THE PERFECT GIFT: Do you know someone who's laughter can light up the room? Well this is the perfect gift for them
BIDDY MURPHY EXPERIENCE: When only authentic Irish goods and gifts will do. We promise you'll be delighted
Customer Caroline also gave it 5 stars, saying she bought it for a gift and reported that "it was better than I thought." The Irish Curse plaque reads "May those who love us love us. And those that don't love us, may God turn their hearts. And if He doesn't turn their hearts, may he turn their ankles so we'll know them by their limping." This humorous Irish wall decor would make a great gift for the one who enjoys Irish humor and would like yet another laugh. The white matte along with the white frame allows this lucky irish wall hanging to fit in with any color scheme. And because it fits in with any color scheme, it also makes the perfect gift! It measures 12-1/4" H x 10-3/4" W x 1-1/4" deep and can be mounted on the wall using the simple clip on the back. This piece is crafted by our maker-partner in Co. Meath, who is as invested in the craft of woodworking as they are committed to sustainability. And when you purchase from Biddy Murphy, you'll be delighted or we'll make it right. No worries here!
AUTHENTIC IRISH: There's nothing more authentic than an Irish curse wall hanging crafted in Co. Meath, Ireland
QUALITY IRISH MATERIALS: This Irish wall decor is crafted on eco-friendly Irish timber off-cuts that would have otherwise been wasted
UNIQUE DESIGN: Crafted as a cutout of Ireland and presented within a matted frame measuring 15"H x 12"W x 1-1/4" D
THE PERFECT GIFT: Do you know someone who's laughter can light up the room? Well this is the perfect gift for them
BIDDY MURPHY EXPERIENCE: When only authentic Irish goods and gifts will do. We promise you'll be delighted
More from this collection