Irish Linen Cap Made in Ireland Fitted Flat Cap Slim Fit for a Polished Look Linen Made by John Hanly & Co.
SKU:
LC065_Rathlin01_3_XXL
Quick Overview
AUTHENTIC IRISH CAP - This linen cap is a lighter weight version of the traditional Irish driving caps many have grown to love. Irish linen is cheerished for the way it looks, feels and performs. The linen is woven by Emblem Weavers, one of the very last makers of Irish linen. The cap is made in Co. Tipperary, Ireland by John Hanly & Co., who's products are of excellent craftsmanship and outstanding quality. This cap is as authentic as they come.
MADE WITH 100% IRISH MATERIALS - We Irish take our linen very seriously. It's cherished for the way it looks, feels and performs. Linen cloth is woven from the flax fiber, making it unusually soft and fine with a natural luster. This fine, classic linen weave is very well made using traditional methods by Emblem Weavers. It's breathable and lightweight, making it an excellent choice, perfect for keeping the sun off your head and away from your eyes. Dry clean only!
TIMELESS STYLE AND DESIGN - Much more stylish than the old standby baseball hat, this Irish linen cap features a slim, fitted style that follows the contours of your head. It's iconic flat cap design has a slightly curved, sewn brim and a light cotton lining. It sits nicely on your head with a sleek modern look that carries the vibe of a fine accessory. How does a baseball hat even stand a chance?
BIDDY MURPHY EXPERIENCE - Anyone can sell a cheap cap, but at Biddy Murphy we pride ourselves on providing our customers with premium, authentically Irish goods that reflect the traditions and pride of the craftsman in our home country, Ireland. We source the very best and make it easy for you to purchase and back it with outstanding customer service, so you can experience the joy we feel for Ireland as well.
SIZING FOR BEST FIT - This linen cap is intended to sit on your head just above the ears. To ensure that you'll love the fit, we recommend measuring the widest point on your head and choosing the size that corresponds with your measurement. Select your size from the following options: Small (6-7/8) = 21-3/4" - 22-3/8", Medium (7-1/8) = 22-3/8" - 23-1/8", Large (7-3/8) = 23-1/8" - 23-7/8", XL (7-5/8) = 23-7/8" - 24-3/4", or XXL (7-7/8) = 24-3/4" - 25-1/2"
Our customer Pamela says that "the quality isn't matched elsewhere in a similar cap style." We agree! This lightweight, Irish linen cap is lined in a very fine woven white cotton, making it perfect for the warmer months. The fabric, stitching and overall quality construction make it a wise choice to cover your head from the sun's rays. Truth be told, it also makes a stylish statement as well. We understand that it may not be easy for everyone to buy a cap sight unseen, which is another reason purchasing from Biddy Murphy is a wise decision. We are here to make sure you are delighted with your purchase, or we'll make it right. There is no buyer's remorse when you are a Biddy Murphy customer. Our Irish hospitality and values guide our business policies, putting customer experience above profit. You won't regret buying from Biddy Murphy!

Customer Reviews
Write a Review
Ask a Question
Filter Reviews:
quality
size
Biddy Murphy
style
weather
flat cap
color
gift
head
caps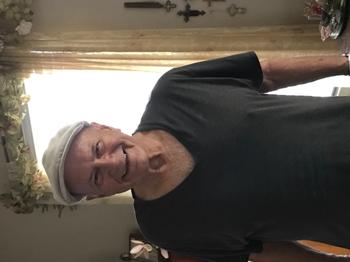 06/14/2019
First Rate
Exactly as advertised. My husband couldn't be more pleased. This is not the first flat cap we have bought. The quality isn't matched elsewhere in similar cap style.
Pamela L.

United States
03/21/2021
Love It
It fits well and is light weight and stylish.
Anonymous

United States
02/18/2021
Disappointed with recent purchase of Irish linen fitted flat cap.
This was a disappointing purchase because the quality did not live up to the other two caps that I had purchased previously. This Irish linen fitted flat cap's workmanship and quality are not - in my opinion - up to standard compared to the other caps that I own from Biddy Murphy. The brim is flimsy and like a thin cardboard, and the fit sits oddly on my head as if the measurements are off. Anyway, I'm not ready to give up on Biddy Murphy just yet.
Bryan T.

United States
01/01/2021
Linen cap
Fits perfectly. Nice and light for summer. Came wrinkled in an envelope so I have to iron it. Could have better packaging for the high price.
Anonymous

United States
More from this collection