product
Irish Peat Cubes Irish Turf Peat Blocks Fragrances of Ireland Handcrafted by Our Maker-Partner in Co. Westmeath
Quick Overview
AUTHENTIC IRISH: Real Irish peat cubes handmade by our maker-partner in Co. Westmeath, Ireland
QUALITY MATERIALS: Each Irish peat block is made with real bog from Ireland, which is getting more rare. Cubes measure approx. 2 1/2"L x 1/2"W
TIMELESS ITEM: Burn the tiny turf cubes to bring the nostalgic smell of Ireland into your home. (These are NOT logs!)
IDEAL GIFT: Give a wee bit of Ireland to someone who appreciates the Motherland. Comes in a small drawstring bag along with a card explaining how bog is formed
IRISH HOSPITALITY: We're real Irish people sharing the joy of Ireland through authentic Irish goods and gifts
Customer Shannon told us that she has a room in her house that they turned into a mini Irish pub. She burns these tiny peat cubes there while sipping Irish whiskey. There's nothing like the smell of bog to bring back the memories of the Motherland. The aroma is unforgettable and can take you back to Ireland, if only in your mind. This adorable "Irish Turf" drawstring bag contains 5 tiny (approximately 2 1/4"L x 1/2"W) Irish peat cubes that, like incense, are perfect for burning wherever you'd like to spread the fragrance of Ireland. These small Irish peat bricks are handmade by our maker-partner in Co. Westmeath, Ireland. They are a family run business that started in 2009 and has been crafting different items out of bog ever since. Buy one bag for yourself and give one for a unique gift. We are proud to share the joy of Ireland through our selection of authentic Irish goods and gifts like these small Irish peat cubes. You'll be delighted or we'll make it right. Our Irish hospitality has become the foundation of our customer experience at Biddy Murphy.
Customer Reviews
Write a Review
Ask a Question
Filter Reviews:
Irish
Ireland
smell
size
someone
gift
whiskey
village
fireplace mantle
turf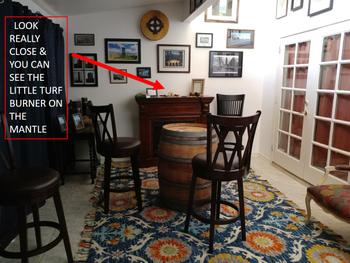 12/19/2019
Irish Turf
I love these little turf briquettes! We have a room in our house that we turned into a mini Irish pub, so I burn the turf in the Incense Burner Ceramic Cottage sitting on our fireplace mantle, while sipping Irish whiskey. The aroma is glorious, and it takes me back to our adopted village in County Galway!
Shannon C.

United States
11/12/2020
Do NOT hope this will transport you to that Irish Inn of your memories
These "bricks" are literally 2 inches by 1 inch - pretty ridiculous in size. I was hoping it would bring back that smell from the Irish inns we stayed at with the fireplaces going. Nope. Nothing of the sort. The only time I caught even the slightest whiff was if someone walked past the fireplace and pulled the draft of the fire back out. Will definitely not order them again.
Dominique M.

United States
05/30/2020
biddy turf briquettes
very much! feels like we are back in Ireland
ellen m.

United States
01/30/2020
Mini bag of turf
Love it! I was going to buy it while I was in Ireland and left without it☹️. Now my trip has been officially completed. Thank you so much!
Yvonne S.

United States
08/27/2019
Gift
Bought these as a gift & she loved the smell, once she realized what it was. Will be buying more.
More from this collection