10K Gold Celtic Cross Necklace Gold 18" Chain - Delicate ⅜" x ⅝" Hallmarked in Ireland
Quick Overview
MADE IN IRELAND - An authentic Irish legacy. This necklace is exquisitely crafted in Co. Dublin Ireland and Hallmark stamped for authenticity at Assay Office in Dublin Castle.
CELTIC CROSS - Show off your Irish heritage! Features the iconic Celtic Cross; a well-known and beloved Gaelic symbol that represents knowledge, strength, and compassion, as well as "God's Eternal Love."
SMALL PENDANT - Perfect for wearing with any outfit, this inconspicuous pendant measures approximately ⅜" inches wide x ⅝" tall.
18" ROLO CHAIN - Gold-plated rolo chain adds an air of elegance to this necklace. Features ring clasp that is secure and easy-to-use.
10K GOLD - With a golden glow, this necklace looks absolutely divine! Crafted from genuine 10K gold, this durable necklace is your new family heirloom.
READY TO GIFT - Commemorate a special occasion with a one-of-a-kind Irish gift! Celtic Cross necklace comes in a green Biddy Murphy heritage gift box that makes for lovely presentation and storage.
Keep your faith close to your heart!
This Celtic Cross necklace is crafted by Irish artisans in Dublin, Ireland and hallmark stamped at the Assay Office in Dublin, Ireland. Crafted from genuine 10K gold, this necklace has a divine golden shine and is hypoallergenic and nickel-free. Designed for durability, this gold necklace will be your new family heirloom! Featuring beautiful Celtic weaves, this petite pendant measures approximately ⅜" inches wide x ⅝" tall; it's the perfect small token to represent individual faith, stunning without being flashy. Pendant hangs on an 18" gold rolo chain that features a secure ring clasp that is easy-to-use. This cross also comes in a Biddy Murphy heritage box that shows the Round Tower of Glendalough, which is surrounded by hundreds of ancient Celtic Crosses. Gift box is the perfect place to store and protect your jewelry for future use.
Embrace your Irish roots
Inspired by the culture and traditions of the Emerald Isle, this necklace features the iconic Celtic Cross, a well-known and beloved Gaelic symbol. The Celtic Sun Cross was originally used by Pagan Celts, for whom the circle at the center of the cross represent the sun. When the Christians came along, the symbol was adapted to represent an entirely different son! This golden Celtic Cross necklace brings the spirit of both of these beliefs together.
MADE IN IRELAND -

Crafted by Irish artisans in Dublin.
CELTIC CROSS -

Iconic Irish symbol represents deep faith.
10K GOLD -

Genuine gold makes this a new family heirloom!
Delicate suitable for Layering or Young Adult Communion or Confirmation
Customer Reviews
Write a Review
Ask a Question
Filter Reviews:
heads
quality cross
Mother love
thickness
issue
layering
beauty
crosses
love
face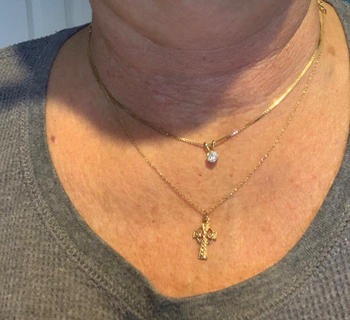 10/29/2020
Celtic cross 10k gold
Love it. It's small, and beautifully done. Exactly what I was looking for. If you are looking for a thickness as well, this may not be for you. Just a heads up. This was not an issue for me, I love it This
kathy h.

United States
05/27/2020
Such a beautiful manner to show your Irish DNA
My Mother love, love, loves this intimate gold Celtic cross. This quality cross is perfect for layering. Since I gifted her this beauty she has not taken it off. Crosses often are big, garish, cheaply made, & in your face. Buy it you won't be sorry!
Anonymous

United States
More from this collection