product
Tweed Cap Made in Ireland Contoured Driving Cap Style Slim Look Herringbone or Fleck Killarney Tweed Made By Our Maker-Partner in Co. Galway
Quick Overview
AUTHENTIC IRISH CAP - Whether you prefer traditional or contemporary designs, this cap is a timeless piece of Irish style crafted in Co. Galway by our maker-partner. Founder Gerry Moran grew up watching his grandmother knit woolen garments for family and friends. He developed a love for handcrafted Irish designs that use natural fibers and ultimately set off to turn this craft into a business that produces quality caps that can be worn with pride. You'll notice the Hatman of Ireland's signature "feather in your cap" on every design.
MADE WITH 100% IRISH MATERIALS - Inspired by the stunning scenery along Ireland's coastlines and waterways, this cap features 100% Irish wool Killarney tweed sourced from the traditional woolen mills in Ireland. The wool tweed is paired with a polyester lining, so you don't have to worry about it being the slightest bit itchy. Because it's new wool, never reused or recycled, this cap is made from strong fibers which provide the benefits of both warmth and durability. Tweed is also naturally water-resistant keeping your head dry in rain, sleet, or snow.
TIMELESS STYLE AND DESIGN - The fitted flat cap style features 4 panels with an elongated single top piece that is sewn to the brim, helping to maintain its beloved shape. The back of the cap has a hang band for functional style as well as a bit of stretch to ensure a good fit. The interior of this tweed cap is heavily insulated in a quilted pattern for warmth on those chilly days. It is expertly tailored with double stitching at the seams so you can wear this cap with pride for many years.
BIDDY MURPHY EXPERIENCE - We are real Irish people who source real Irish goods from genuine artisans who are committed to preserving the traditions that have been passed down through generations. Our maker-partner prides itself on using natural Irish woven fibers in his original, handcrafted designs. Their caps are well-made, authentic and offer outstanding quality. You'll never regret buying from Biddy Murphy because we are dedicated to delighting our customers. If you are not delighted, we'll make it right. No worries here!
SIZING FOR BEST FIT - This cap is intended to sit just above the ear and comfortably around your head. The internal quilting adds warmth but also adds some thickness making this cap fit a bit smaller. There is a stretch band in the back that provides a little give, but we always recommend measuring your head at the largest part above your eyes. S = 22 - 22-3/8"; M = 22-3/4 - 23-1/4"; L = 23-5/8 - 24"; XL = 24-3/8 - 24-3/4"'; XXL = 24-7/8"
Our customer Christina says "I recommend this cap without reservation." In fact, she and her son were trying to decide who gets the extra cap that she purchased. This contemporary Irish flat cap is rooted in the traditional style you've seen in the movies but has been designed to pair well with today's styles. Its heavy insulated quilting makes this hat wonderfully warm in the colder months. Because it's made in Ireland, the quality and craftsmanship can't be denied. You may even find yourself trading in one of your current warm-weather hats for this one. Our CEO (Chief Experience Officer), Ward Gahan, wears these caps himself in the cold winter weather along the shores of Lake Michigan. We believe you'll be delighted with your purchase, or we'll make it right. Some might say it's the Irish hospitality that we grew up with and now share with others. That's how we do business at Biddy Murphy!

Customer Reviews
Write a Review
Ask a Question
Filter Reviews:
husband
quality
Biddy Murphy
service
color
purchase
Ireland
Irish
size
material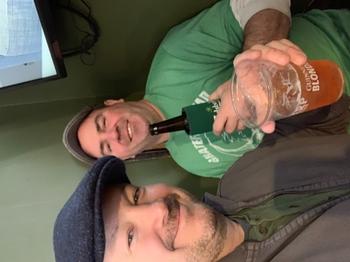 03/30/2019
Great Cap
Love the color. It fits perfectly and looks great. If and when I wear this one out I'll only consider another Biddy Murphy cap.
10/24/2021
Tweed Cap
Just started wearing it and though I have never worn one before I believe it was a great purchase.
Patrick D.

United States
10/14/2021
Loved it
Great material a little tight but not too bad
JONATHAN J.

United States
09/23/2021
Worth Every Penny
Mucros Weavers and Hatman of Ireland make quality Irish caps that one can't readily find in U.S. stores. I've tried several through the years to no avail. Then along comes Biddy Murphy to the rescue! Lesson learned - If you want a genuine well made Irish cap at a reasonable cost, find an Irishman who sells them.
A.G. Taylor

United States
07/14/2021
Terrific cap
I love the Irish materials and the colors. This will be my new dress cap! It's stylish and colorful yet practical.I bought one for my son too and he loves it!
Emmett J.

United States
More from this collection
from $ 47.00
$ 67.00
You save $ 20.00
from $ 57.00
$ 77.00
You save $ 20.00