product
Irish Shillelagh Walking Stick Made in Ireland 100% Blackthorn Walking Stick Irish Cane Made in Co. Roscommon
Quick Overview
AUTHENTIC IRISH: It doesn't get much more authentic than our maker-partner Patricia O'Flaherty of Naomh Padraig Handcrafts of Co. Roscommon, Ireland
QUALITY IRISH MATERIALS: Blackthorn is a resilient and sturdy wood that has been used throughout history, to make weapons and canes
TIMELESS STYLE & DESIGN: Also known as the Shillelagh, the Irish blackthorn walking stick has a rustic texture and sealed to protect the wood. The handle gives this blackthorn walking stick a nice grip. All natural - no two are alike
THE PERFECT GIFT: Do you know someone who could use a little help getting out of their chair or an aid to steady their walk? This sturdy Shillelagh is the perfect gift of distinction
BIDDY MURPHY EXPERIENCE: When you purchase from Biddy Murphy, you are buying from a small business committed to supporting authentic Irish artisans who keep centuries-old traditions alive through their crafts
Customer AJ refers to this Irish Shillelagh Walking Stick as having "old world quality." He bought this blackthorn walking stick for his mother and she loves it! He said "It makes her feel very dignified." The Irish Shillelagh Walking Stick is a beautiful product with a rich history. Blackthorn wood is very rare so craftsmen will go out to their secret location in the dark. Like the truffle or morel hunters, blackthorn wood is harvested once per year. The name comes from the Shillelagh Forest in Co. Wicklow. It was originally created as a strong fighting stick when weapons weren't allowed. It has evolved to become a sturdy walking stick that is lightweight and a symbol of distinction. Because blackthorn wood is created in nature, no two are exactly the same. Our Irish walking sticks are fashioned to be approximately 36" tall from the bottom of copper ferrule to the top of the handle and about 1" in diameter. This Irish cane features an ergonomically correct handle, which is roughly a right angle and fits perfectly in your hand. It's a beautiful product, unique and rich with tradition. You'll be proud to show off this Irish Shillelagh Walking Stick. May the luck of the Irish always be at hand!

*Please keep in mind that these sticks are natural - not man made - so there will be variations and no two sticks are alike. We cannot offer custom lengths or handle designs. 
The walking sticks are sturdy, made from mature wood that are randomly cut from Blackthorn Trees which are a limited resource in Ireland. Our partners harvest the oldest limbs and season the wood before they sand and paint the precious Blackthorn into the unique configurations that result. Other, less costly sticks may not be true Blackthorn or might not seasoned or left to dry out for 6 months like the Biddy Murphy sticks. Younger wood results in thinner and nubby or thornier and more likely to crack or break as they dry out over time. Biddy Murphy sticks. Younger wood results in thinner and nubby or thornier and more likely to crack or break as they dry out over time. 
Customer Reviews
Write a Review
Ask a Question
Filter Reviews:
walking stick
cane
quality
gift
Biddy Murphy
Irish
Shillelagh
Christmas
purchase
piece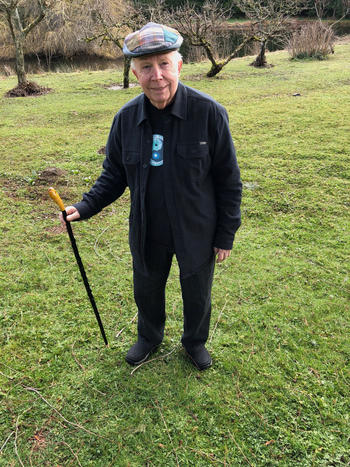 03/15/2021
Shillelagh
Beautifully crafted from a natural Blackthorn branch. Seems plenty sturdy to help on walks where my balance is not as centered as it once was. They have carefully removed the thorns so it is not dangerous to hold.
Ed S.

United States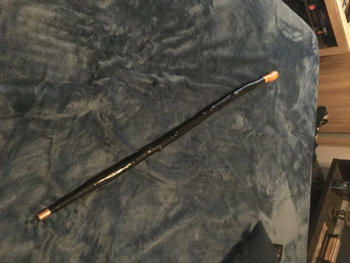 09/25/2020
Amazing
When I received my shillelagh I was so excited. Recently found out that I had Irish and Scottish Heritage. So having this makes Me feel closer to my roots.
BenJamin C.

United States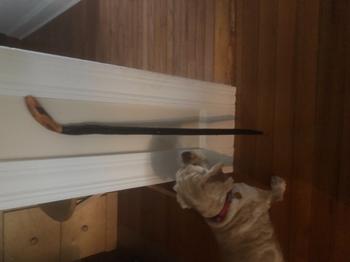 10/04/2018
Exactly what I wanted
Great product, fast delivery. The variety of the walking sticks was perfect, so that I could select the proper one for my height. I'll be keeping an eye out for other items that I might purchase. Thank you Biddy Murphy's
06/26/2021
Very nice piece of Ireland
I was recently diagnosed with severe knee arthritis, I was sometimes feeling unstable particularly on stairs, so I wanted a cane, but not just any old cane. I wanted something stylish and that would look good. That's what I received from Biddy Murphy. I put a rubber tip on it as the metal one on it slides on indoor floors. It is a lovely piece of wood with a nice knob on the handle to hold onto. It's just what I was hoping for.
James C.

United States
06/17/2021
Beautiful Walking Stck
I am so happy with this stick . Absolutely gorgeous and well made. I show it off when I go for my walks.
Pat A.

United States
More from this collection