product
54" x 73" Mohair Wool Blend Throw Blanket 70% Mohair/30% Wool Woven by John Hanly & Company in Co. Tipperary, Ireland
Quick Overview
AUTHENTIC IRISH: Wool Throw blanket crafted by John Hanly & Co. a family-run business making Irish blankets in Co.Tipperary
QUALITY IRISH MATERIALS: This Irish throw blanket is made with a luxurious blend of 70% mohair and 30% wool, creating a soft yet durable blanket
TIMELESS STYLE & DESIGN: 54"x72" is the perfect size for an individual throw blanket. Mohair is a durable premium fiber that lasts for years
THE PERFECT GIFT: When you don't know what to get someone special, give them an heirloom quality Irish wool throw blanket
BIDDY MURPHY EXPERIENCE: We are real Irish people supporting the fine craftsmen of Ireland who are keeping the weaving traditions thriving
"A true work of art in both its craftsmanship and visual impact!"

When you place wool throw blankets on a couch it's more than just something to grab when you're cold; it's a piece of authentic Irish art you'll be looking at for years to come! This well-crafted blanket will add a touch of color to a dull couch or liven up a bedspread; but most importantly, it will keep the person cuddled up inside of it cozy and warm. This standard Irish throw measures approximately 54" x 72" with unfinished ends for a fresh-off-the-loom look. Blanket is crafted from 70% mohair and 30% lambswool for unbeatable softness that is ideal for people with sensitive skin. This lightweight throw is also temperature-regulating and moisture-wicking, to keep the user comfortable in all seasons. Durable and long-lasting, you'll being using and loving this blanket for years to come. Made by John Hanly & Co., a family-run mill that opened in 1893; in their hundred years, the skilled weavers John Hanly have perfected the art of crafting authentic, long-lasting wool throw blankets for folks all over the world. Don't miss out on this piece of art you can use!
MADE IN IRELAND - Crafted by skilled weavers in John Hanly's sustainable mill.
MOHAIR - Super-soft, warm, and long-lasting.
STANDARD THROW - Great for couches and beds. Usable art!
Customer Mary says this Irish wool throw blanket is "stunningly beautiful and cozily warm!" She purchased this ample-sized throw for warmth and visual appeal and it exceeded her expectations. The combination of mohair and wool makes this mohair throw blanket silky soft and warm. Mohair is considered a luxury fiber, like cashmere, angora, and silk, and can be more expensive than most wool that is produced by sheep. This Irish throw blanket is a premium, durable blend. Some of our customers mentioned purchasing one as a gift and then one for themselves because they couldn't pass it up! You'll be impressed by the beauty and craftsmanship in this tightly woven Irish wool throw blanket made by our maker-partner, John Hanly & Co. - a family business that has been weaving for centuries, keeping Irish crafts and traditions alive in their premium wool products. Biddy Murphy is proud to partner with Irish makers who make high-quality, authentic Irish goods. When you purchase from Biddy Murphy, you'll experience Irish hospitality at its finest. We are real Irish people supporting real Irish makers. You'll be delighted with your wool and mohair blanket or we'll make it right. We aim to be your source for all things Irish.
Customer Reviews
Write a Review
Ask a Question
Filter Reviews:
colors
blanket
throw
wool
Biddy Murphy
softness
house
light
Christmas
love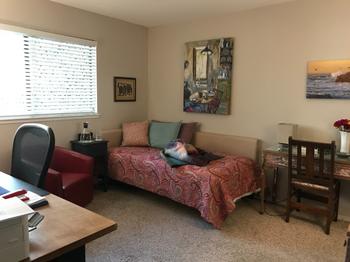 01/13/2021
Warm and Fuzzy
I could spend hours raving about this blanket. I want everyone I know to see its beauty, feel it's fuzzy softness and experience it's weightless warmth. The jewel colors attracted me to the site and I had to have it, praying it was as delightful as touted. The colors are subtle and jewel-like, and the angora/wool blend is perfection. Love, love, love it.
Maggie L.

United States
09/27/2021
Great blanket !
Really nice, I like my mohair blanket a lot thank you!!
Christian E.

United States
09/27/2021
Mohair Blend Throw
Don't like it... I LOVE it! No disappointment here. Beautiful throw.
Barbara B.

United States
06/06/2021
Just what I wanted
Trying to add color to my living room. This blanket has all of the colors in all the shades - brings the room together.
Anonymous

United States
04/25/2021
Amazing throw!
The colors in this are amazing, especially in daylight. The fiber quality is excellent as well as the weaving. This is truly a work of art!
Anonymous

United States
More from this collection