Failte is Gaelic for "Welcome". Handmade Irish home gift painted by hand in Ireland framed and glass covered.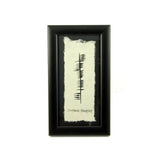 Failte means Welcome in Irish (Irish Gaelic)
Hand painted Ogham writing on hand made paper.
Frame is 6-1/4" wide and 11" long.
Made by Ethel Kelley in County Roscommon, Ireland.
Ships same day within USA
Ethel Kelly's award-winning range of hand-painted Irish art, our maker-partner, continues to enchant and delight. At her traditional workshop in Knockcroghery village in County Roscommon, each Irish blessing is individually painted by Ethel on handmade paper and beautifully framed in a contemporary black wooden frame. They are quite charming in their simplicity!
Failte means Welcome in Irish (Irish Gaelic)
Hand painted Ogham writing on hand made paper.
Frame is 6-1/4" wide and 11" long.
Made by Ethel Kelley in County Roscommon, Ireland.
Ships same day within USA
More from this collection