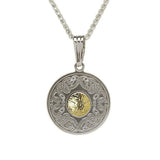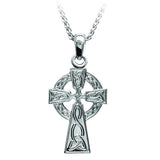 AUTHENTIC IRISH: Crafted by our maker-partner in Co. Dublin, Ireland. who has been crafting Irish necklaces since 1941
QUALITY MATERIALS: Sterling silver cross necklace has been hallmark stamped for purity by the Dublin Assay Office
TIMELESS DESIGN: This Celtic cross is similar to those you see throughout Ireland. 5/8" W x 1 1/4"H. Comes on an 18" rolo chain
PERFECT GIFT: This cross necklace is ideal for displaying your faith or your Irish heritage. Sized for everyday wear
IRISH HOSPITALITY: We're real Irish people proud to support artisans in Ireland who produce quality celtic jewelry
Embrace your Irish roots!
Celebrate where you came from with this men's Celtic Cross Necklace! Part of an authentic Irish legacy, this necklace is exquisitely crafted in Ireland and hallmark stamped at Assay Office in Dublin Castle. Made from genuine 925 sterling silver, this necklace is a durable and shiny in addition to being nickel-free and hypoallergenic. A masculine twist on the classic Celtic Cross, this two-sided large pendant measures approximately 1 ¼" tall x ⅝" wide. The 18" sterling silver rolo chain fits higher on the sternum and would be beloved by a younger man. The rolo chain is comfortably thin for a forget-it's-there feel and features a secure, easy-to-use ring clasp. This cross comes in a Biddy Murphy heritage box that shows the Round Tower of Glendalough. Gift box is the perfect place to store and protect your jewelry for future use.
Represent a never-ending love of Ireland.
Inspired by the culture and traditions of the Emerald Isle, this necklace features the iconic Celtic Cross, a well-known and beloved Gaelic symbol. This necklace represents knowledge, strength, and compassion, as well as "God's Eternal Love." The oldest Celtic Crosses in Ireland, made by ancient monks, date back thousands of years; we can't guarantee this necklace will last for centuries, but it will make a beautiful marker of your heritage!
MADE IN IRELAND

– An authentic Irish legacy.

CELTIC CROSS

- Features the iconic Celtic Sun Cross.

STERLING SILVER

– True 925 sterling silver, nickel-free and hypoallergenic.
AUTHENTIC IRISH: Crafted by our maker-partner in Co. Dublin, Ireland. who has been crafting Irish necklaces since 1941
QUALITY MATERIALS: Sterling silver cross necklace has been hallmark stamped for purity by the Dublin Assay Office
TIMELESS DESIGN: This Celtic cross is similar to those you see throughout Ireland. 5/8" W x 1 1/4"H. Comes on an 18" rolo chain
PERFECT GIFT: This cross necklace is ideal for displaying your faith or your Irish heritage. Sized for everyday wear
IRISH HOSPITALITY: We're real Irish people proud to support artisans in Ireland who produce quality celtic jewelry
More from this collection