Knitting Yarn Made In Ireland Knitting Wool Irish Aran Yarn For Wool Projects Crafted in Co. Kerry, Ireland
SKU:
Kwmyarn_ramblingrose
Quick Overview
AUTHENTIC IRISH: When you are looking to create an authentic craft or something that is durable and made to last, you don't want to settle for anything less than a yarn that is crafted in Co. Kerry
QUALITY IRISH MATERIALS: This yarn is 100% new wool that is washed, dyed and spun into soft yet strong yarn. It comes in a net length of approximately 365 yards and a net weight of 200 grams
VERSATILE: This skein of yarn is made from 100% new wool making it durable and easy to work with, whether you working on a knitting or crochet project. It's ideal for many different types of crafts
CARE INSTRUCTIONS: All of our Irish wool yarns are 100% natural, made by Mother Nature and a little help from sheep. Hand wash in lukewarm water and let it soak. Roll out extra water
BIDDY MURPHY EXPERIENCE: You'll be pleased with the quality of your yarn or we'll make it right. We recommend you purchase enough yarn to complete your project because later dyes may vary in shade
Whether you are a seasoned crafter or one that is just getting started, your knitting or crocheting projects will be amazing with this 100% Irish wool yarn. It is perfect for a variety of uses - blankets, sweaters, hats, scarves, socks, mittens and so on. This yarn is excellent quality, easy to work with, warm and soft. Because it is 100% new wool - no reused fibers - it is long wearing. It comes in a variety of rich colors that are reminiscent of the colors you'd see in the landscapes in Ireland. When you purchase this yarn from Biddy Murphy, not only are you supporting our small business, you are helping to preserve the multi-generational Kerry Woolen Mills family. They use traditional weaving techniques, along with modern manufacturing capabilities to keep up with the demand for high quality, authentic Irish yarn made of 100% new wool. As always, when you purchase from Biddy Murphy, you'll be delighted or we'll make it right. It's our no hassle Irish hospitality!
Customer Reviews
Write a Review
Ask a Question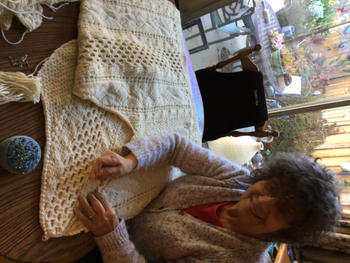 03/07/2021
This is the real thing
As a long time (57 years)knitter of authentic fishermen sweaters in Aran yarn, I am so glad to have found a place where I can buy the real quality yarn. Thank you for making this available. Yes it does take proper washing and care( no machine wash or dry) I still own and wear one my mom made for me in 1966.thank you Biddy Murphy
Teresa T.

United States
09/14/2020
Crocheted mittens
Enjoyed working with this yarn smooth and consistent texture
Anonymous

United States
More from this collection