Irish Hats for Men Made In Ireland Tuck-Away Ear Flaps Covers Ears and Neck
Quick Overview
AUTHENTIC IRISH CAP - Caps have been part of the Irish culture for centuries, and this Mens Ear Flap Cap is no exception. Woven from one of Ireland's remaining textile manufacturers in Co. Tipperary, who combine centuries-old weaving skills with technology, you can wear this cap with pride knowing that is made by Irish artisans who never compromise on quality.
MADE WITH 100% IRISH MATERIALS - We offer authentic Irish goods and gifts to our customers, and you can purchase with confidence that this Irish Tweed Cap is made using natural 100% Irish wool. The natural fibers of the wool are soft and not too thick, yet breathable and warm as it covers your head, neck and ears. This cap's quilted insulated lining adds to the overall comfort and warmth against the harshest of the weather, no matter where you live.
TIMELESS STYLE AND DESIGN - One of our most versatile caps, the ear flaps are 'optional' and can be easily tucked inside the cap. It will dress up a more relaxed look, or add a bit more sophisticated elegance to a suit, tie and overcoat. This cap has three seams and the classic sewn brim is flush with the cap. You will enjoy a fit just above the ears when the flaps are tucked, and full coverage of your ears and the back of your neck when they are down.
BIDDY MURPHY EXPERIENCE - We know you have choices when it comes to buying Irish goods and gifts. We want you to know that we are real Irish people with a true passion for sharing Irish goods. Ward Gahan, our Chief Experience Officer personally selects our suppliers, like John Hanly & Co., a household name throughout Ireland for premium wool products. We want you to enjoy your heirloom-quality Irish cap for a long time and share your heritage with your family for generations. This is how we do business.
SIZED-RIGHT - We suggest measuring from the widest point of your head (just above the ears or eyebrows) for the most accurate sizing. Please know these caps runs small and are available in: Small (6-7/8) = 21 3/4" - 22 3/8", Medium (7-1/8) = 22 3/8" - 23 1/8", Large (7-3/8) = 23 1/8" - 23 7/8", XL (7-5/8) = 23 7/8" - 24 3/4", or XXL (7-7/8) = 24 3/4" - 25 1/2".
You will love the quality in each stitch of this Irish tweed cap. This men's ear flap cap is versatile in all types of weather. The tuck-away ear flaps can be worn for a slim fit that protects your ears and the back of your neck in the cold weather, or easily tucked inside the cap on a warmer day. This classic style features a traditional sewn brim flush with the cap. The three seams offers a smooth and sleek fit, when the ear flaps are tucked inside the cap, sitting just above the ears. Our customers rave about the insulated quilted lining of this cap which adds to the comfort and warmth. The crown of outer tweed is made from 100% natural wool, never blended or man-made. This cap is surprisingly lightweight and incredibly warm. Our Irish tweed cap is known to elevate a gentleman's style, as it is a perfect addition to any wardrobe, casual or dressy.  Indulge your Irish heritage with this men's ear flap cap and experience how truly dapper you will become the moment you put this cap on your noggin. 
Biddy Murphy is proud to partner with John Hanly & Co., one of Ireland's remaining weavers located in Ward's native county, Tipperary. They have been crafting premium wool products since they started in 1893, and continue to operate from their beautiful mill close to the banks of the River Shannon. They are focused on sustainable manufacturing processes, using water turbines to produce about 30% of their electricity requirements. Supporting family-owned companies who use renewable energy is important to us, and we want you to feel good about your purchase. 
What began as bringing gifts back to family and friends from trips to Ireland, is now Biddy Murphy.  Founder Ward Gahan born and raised in Co. Tipperary, Ireland, started Biddy Murphy, named after his trend-setting mum, Bridget, in 2004 after he realized there was a real desire for authentically made Irish goods. There were many who said they sold Irish products but they stuck a shamrock on items that were from China. Today, Ward's  mission to bring unique Irish makers to the US market is now a successful Ecommerce store where he is truly sharing the joy of Ireland through authentic Irish goods, gifts and experiences. 

Customer Reviews
Write a Review
Ask a Question
Filter Reviews:
gift
husband
quality
ears
flat cap
size
head
ear flaps
flaps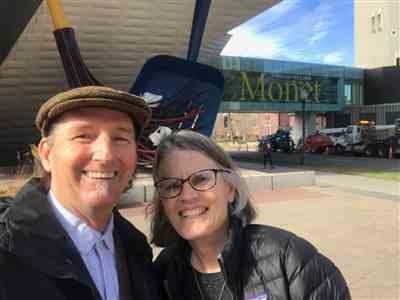 01/12/2020
Really like these caps
Second one in this style. So simple to deploy the flaps on breezy wintry mornings when walking our dogs. Once flipped back up, no one knows they're there! Classic look, impeccable.
Jim B.
United States
04/19/2020
Love it!
This was a gift and my son in law loved it!
Anonymous
United States
02/06/2020
Excellent cap
I really love this cap. It's well made and warm, partly because of earflaps. One big selling point to me was that it's made in Co. Tipperary. Last year I bought a cap from another seller because it said it was made of "Irish wool." Yes, maybe so, but the label I read after getting it said "made in china." So this being made in an Irish county I have visited is worth a lot to me.
Anonymous
United States
02/06/2020
Excellent cap!
This is my second Biddy Murphy cap. The first one is linen. I liked it so much I purchased the wool cap for cooler weather.
Randal W.
United States
01/29/2020
Incredible.
I absolutely love this cap. Shipping was fast. Amazing quality. Excellent materials. I'll definitely be purchasing more products from this wonderful company.
bigdaddyrubbish
United States
More from this collection