Celtic Wall Cross Glendalough Cross Irish Wall Hanging Sculpted Polyresin Crafted by Our Maker-Partner in Kinsale Co. Cork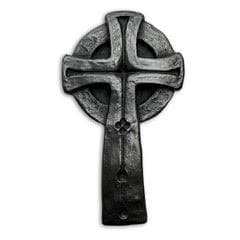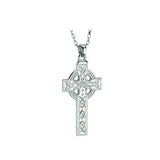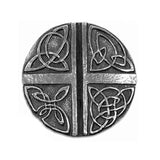 AUTHENTIC IRISH: Modeled after the traditions of original Irish carvings, this piece was crafted in Kinsale, Co. Cork, Ireland
QUALITY MATERIALS: This piece is sculpted, then moulded in resin and covered in cast iron or bronze for a durable finish
TIMELESS DESIGN: This Irish cross is made of resin making it lightweight for hanging and durable for indoor our outdoor use. 5 1/2" x 3 1/4"
IDEAL GIFT: This coated resin Glendalough cross makes an ideal gift for someone special. It's ideal for that person who's rooted in a strong faith
IRISH HOSPITALITY: We are real Irish people supporting real artisans and craftspeople in Ireland
Looking for the perfect symbol of faith to hang in your home? This Irish cross wall decor is a replica of the Glendalough Cross found in St. Kevin's Church in Co. Wicklow. An ancient monastic site at the foot of the Wicklow mountains, the Glendalough monastery has withstood the test of time. Simple yet magnificent, this cross represents that durable faith; crafted from resin it is lightweight for easy hanging, tarnish-resistant, and promises to last for years. This Celtic wall cross comes with a pre-drilled hole so you can get it hung on the wall without any special tools. This Irish wall hanging measures approximately 3 ¼" wide x 5 ½" tall and comes in a nice presentation box, making it a great gift for anyone whose faith can withstand anything. It's perfect given the challenges that we've endured lately! This Irish wall cross was crafted by our maker-partner in Kinsale, Co. Cork, Ireland. And they hire craftspeople to design and create meaningful home decorations; an individual artist will sculpt a design, which is made into a mold to be faithfully reproduced. Each piece from our maker-partner is beautifully crafted and infused with the Irish spirit. We are proud to bring the artful crafts from artisans in Ireland to our customers in the states. You'll be delighted with your authentic Irish wall cross or we'll make it right.
AUTHENTIC IRISH: Modeled after the traditions of original Irish carvings, this piece was crafted in Kinsale, Co. Cork, Ireland
QUALITY MATERIALS: This piece is sculpted, then moulded in resin and covered in cast iron or bronze for a durable finish
TIMELESS DESIGN: This Irish cross is made of resin making it lightweight for hanging and durable for indoor our outdoor use. 5 1/2" x 3 1/4"
IDEAL GIFT: This coated resin Glendalough cross makes an ideal gift for someone special. It's ideal for that person who's rooted in a strong faith
IRISH HOSPITALITY: We are real Irish people supporting real artisans and craftspeople in Ireland
Customer Reviews
Write a Review
Ask a Question
Filter Reviews:
Confirmation
gift
service
St. Kevin
teen
Cross Wall Hanging
monastery
feeling
sponsor
trips
02/20/2022
Perfect gift
This is the second of these crosses that I have purchased for young boys. They are handsome, durable and will last through all the stages of their lives. Plus the boys loved them!
Anonymous

United States
12/27/2021
It looks beautiful in my little granddaughter's room. It is really exquisitely made and brings memories of our many trips to Ireland and in particular St. Kevin's monastery in Glendalough. Also, service from Biddy Murphy's was excellent, the gift delivered promptly.
Anonymous

United States
05/31/2021
Even better than the picture
We all know the feeling of ordering something and not being certain of the quality. This Cross Wall Hanging left nothing to be desired. It's well crafted, balanced and a beautiful gift. We gave this to our six year old grandson and he loves it. However, it would be a wonderful gift for a teen's confirmation too.
Anonymous

United States
10/18/2020
Confirmation
This Celtic Cross is the perfect gift for Confirmation from a sponsor. It's masculine enough for a teenage boy. My nephew loved it.
Anonymous

United States
09/13/2020
Celtic Cross
We bought this as a gift for our grandson's baptism, and it is beautiful. It was received exactly as described, and we love it! We will by this product again.
Anonymous

United States
More from this collection